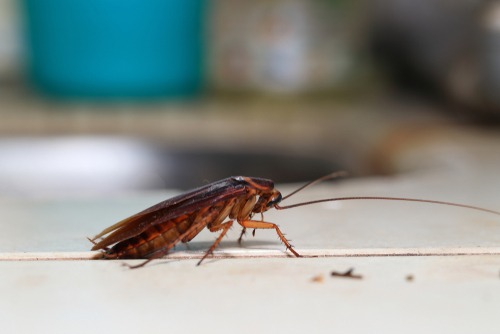 Cockroaches are synonymous with dirt and disease, which is why it's so unnerving to see these creatures in your home. Although many homeowners are embarrassed by what they see as a cleanliness issue, the fact is that roaches will breed anywhere they can find food–and they will eat just about anything. As Houston pest control experts, we're here to share the information you need if you suspect your property may have a cockroach infestation.
What Are the Signs of a Cockroach Infestation?
Seeing a live cockroach in your home is a sign of a problem. The infestation is likely more severe if you notice an insect during the day, as roaches are nocturnal and prefer to be active at night. Cool, dark areas of the home are most often affected, including behind kitchen appliances, beneath drains and even within cracks or crevices in the wall.
Other signs that you need pest control for a cockroach problem include:
Visible insect feces, which looks like pepper or coffee grounds
An oily or musty odor that permeates the home
Live or dead cockroaches
Oblong, brown casings left behind when roach eggs hatch
Why Should I Worry?
A cockroach infestation can impact the health of those who live in the home. These insects produce a protein that worsens asthma. Fecal droppings and molted exoskeletons decrease air quality in the house, which particularly impacts those who have allergies. Cockroaches also carry bacteria that can spread disease, which is a concern as they so often infest the kitchen due to the access to food and water. Accessibility to food and water can result in food poisoning, gastroenteritis, staph infection, and salmonella.
When Should I Call a Professional?
Although over-the-counter products can kill roaches, they do not eliminate the source of the infestation. The source can vary based on the type of insect in question and other factors, which can often only be determined by a professional. To make your home less attractive to cockroaches, eliminate water sources and make sure food is stored in sealed containers. You can also use caulk to seal cracks and other potential entry points, preventing the infestation from getting worse.
If you've noticed any of the above signs of cockroaches in Houston, contact Hartz Pest Control for an evaluation. Our comprehensive extermination solution includes treatment of the outside of your home to keep roaches from entering. We also use gel baits and sprays indoors to get rid of adult roaches and their eggs. Because these insects multiply so quickly, this is the best way to remove cockroaches from your home for good. Call us at 713-461-4866 to get started.