How to Determine if You Need Termites Pest Control.
Hartz offers Houston Termite Pest Control Services. Termites have been plaguing homeowners since the beginning of time. These little pests can cause incredible amounts of damage almost without you even noticing. Once the damage is done, it is costly to repair and getting rid of the pests can be extremely difficult. That's why Hartz is here to help.
What Are Termites?
They are tiny insects that are pale yellow or white and are best known for eating their way through wood. Infestations typically appear in the spring and summer to hunt for fresh food with as many as three million insects swarming to a new location. That location could be your house. anywhere in the greater Houston area.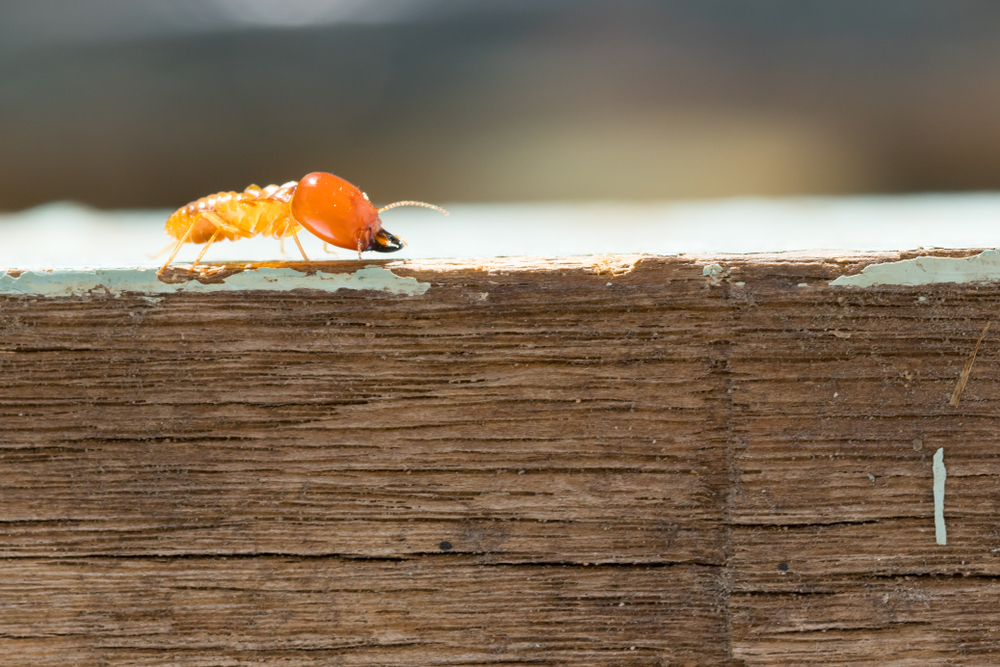 How to Tell If You Have An Infestation
There are many signs of damage that you can spot from termites. See the six signs of a termite infestation.  For instance, if you start noticing that your drywall is sagging, or that there are tiny holes appearing in your drywall, it could be a sign that termites have eaten through the studs in the wall. If your floors begin feeling squishy or start sinking, termites may have gotten to your floor joists. Also, any signs of visibly crumbling wood around the exterior of your house should be cause for concern. As you investigate, you will see that termites dig tiny tunnels through the wood they are infesting. Infested wood will have a maze of tunnels running in every direction. These signs signal the need for a termite inspection performed by an experienced termite exterminator.
Why Should You Be Worried About Your Home?
Pest problems are prevalent in our area. Termites can wreak havoc on any home or structure. Once they have begun feeding on a particular area of your house, it takes real vigilance to get rid of them. Termite lifespan is thought to be 1-2 years for most insects in the colony, and a colony that starts out small could rapidly become a huge problem. While termites do not typically bite humans, you certainly don't want their colonies to go unchecked.
When to Call for Pest Control
Proper pest management is critical. Smart homeowners , turn to a trained exterminator. Even if you have not seen major signs of termite damage, it is best to have an annual inspection done. This will alert you to any colonies that may have moved in during the swarming season. An exterminator will use a combination of bait traps and chemical treatments to eliminate any signs of the  colony in your home. They will continue to investigate and monitor the traps for signs of activity. The High Cost of Termite Damage.
Hartz is the only company in Houston that can prove your termite colony has been eliminated with our one-of-a-kind termite bait stations and innovative barcode system. For a pest management company toy can rely on…Contact us today to learn about preventative termite treatments or how to get rid of an active termite infestation, using the latest techniques like the Sentricon system.  We also treat for ants, roaches, rodents, spiders, fleas and more, pest management to keep your residence pest free.
Types of Termites in Houston

/span>
Termite Pest Control in Houston
The most common types found in Houston are Drywood, subterranean (ground) and Formosan subterranean termites.
According to Experts, it is always advisable to begin with a termite inspection. , the primary productiveness in colonies are the king and queen who established the nest after leaving existing colonies. In a well established nest, the queen can become enlarged and may become practically immobile, laying 2000-3000 eggs per day. The king and queen can live for up to 15 years and are replaced when they become too old to meet the colony's needs. The king periodically fertilizes the queen, unlike with bees, where the queen typically only mates at the beginning of her reproductive life.
Winged reproductive's, or alates, are the future kings and queens of new nests. They have a well developed cuticle, compound eyes, and two pairs of membranoeous wings that are the same length and are dark brown in color. Alates usually disperse in large numbers from mature colonies in warm, humid weather. They are weak fliers who land quickly and drop their wings. As a result, only a small percentage are successful in establishing new colonies. It often takes several years of development before a nest can do significant damage to a structure. Homeowners are advised to look for alates close to the structure, as this can suggest that a nest is nearby that needs immediate treatment by a pest control services expert in Houston.
Soldiers are sterile males and females. Their primary function is to protect the colony and to scout and locate new sources of food. Soldiers have a thin, white or light brown cuticle over most of their body, with a thicker dark brown cuticle covering their head. They can't feed themselves and must depend on the workers for nutrition. Some soldiers release an acid as a defense mechanism that can corrode metal and penetrate mortar and low grade concrete.
Workers are the sterile males and females that feed the colony. They are the only termites that can chew and digest the cellulose found in wood. Workers have the thinnest cuticles and are the most prevalent caste of the colony.
The workers, soldiers and an enlarged queen are very susceptible to desiccation, which is why the humidity of the nest is usually at 90-95 percent. When termites have to cross a structure that they can't eat through, they construct mud-like shelter tubes (or galleries).
If You Suspect an Infestation
It is best to trust this type of pest control to an expert trained to safely use termite control chemicals. I'm often asked about a do-it-yourself chemicals. Due to the complexity of this specific pest control treatment. I tell them that there is not a safe termite control home remedy. 
Identification
Termites are most often identified by the appearance of the swarmers, their damage, and the droppings they leave behind.
When they have their wings, there will be two pairs, similar in size and shape. When at rest, the termite's wings are typically laid flat on their back and extend beyond the tip of the abdomen.
Their wings are capable of being broken at a suture located at the base of the wing. Termites are sometimes called white ants. They can often be seen in large numbers in logs or wood lying in contact with the ground, as well as frames of buildings.
Termite Pest Control: A Termites Biology
Their colonies are highly structured, enabling them to quickly and efficiently adapt to changing environments. With more of our homes centrally heated, termites are a threat in year-round. With potentially a dozen or more subterranean termite colonies for each acre in the Houston area, a typical home may easily have a few colonies living around it. Termites travel up to 130 feet from the colony, and once they discover food (e.g., your residense, they leave a chemical trail for their colony to follow. As upwards of 1,000,000 subterranean termites live in each colony, the threat of infestation is an unfortunate reality for all of us in Houston TX.
Our most common Houston foundation, the concrete slab, is the most susceptible type of construction, as they only need a crack of one-sixty-fourth inch in the slab to enter your home.
These insects are very industrious. They work 24 hours a day without ever resting. They need moisture to survive and will die if exposed to sunlight or open air. Their tunnels protect them from the elements.
Primary reproductives includes queen that established the nest after leaving other existing colonies. In an established nest the queen may be quite large and almost immobile. In some species, the queen can lay 2,000 to 3,000 eggs each day! The queen may live for 15 years.
Termite Pest Control: Need More Information?
Winged reproductives or alates are the future kings and queens of new nests. They have a well developed cuticle, compound eyes, and two pairs of usually dark brown elongated membranous wings of equal length. Alates disperse in large numbers from mature colonies, usually in warm humid weather. They are weak fliers and quickly land and drop their wings. During their dispersal flight, alates commonly land on the roofs of buildings and move inside. Only a small percentage are successful in establishing new colonies, and fortunately it takes several years of development before a nest can significantly damage its wood surroundings. Alates seen emanating very close to your house suggests a nest is nearby and pest control is warranted.
Termite Soldiers Find Your Homes Wood To Eat
Soldiers are sterile males and females, with their main function to protect the colony. The soldiers also scout and locate new sources of food. Soldiers have a thin, white or light brown cuticle over most of the body and a thicker, dark brown cuticle covering the head. Soldiers cannot feed themselves and are dependent on the workers for their nutrition. Some soldiers excrete an acid-like fluid for defense, which can corrode metal and penetrate mortar and low grade concrete.
Workers are the sterile males and females that feed the colony, raise young and maintain the nest. The workers are the only ones that can chew and digest the cellulose in wood. Workers have thin cuticles and are the most numerous caste of the colony.
Because of their thin cuticles, workers, soldiers and the queen are very susceptible to desiccation (death by excessive loss of moisture). So the humidity of the nest is maintained at 90 to 95 percent. To protect them against light, desiccation and predators, when termites are forced to cross a structure that they cannot eat, they construct mud-like shelter tubes (or galleries).
Food Preferences
Let's connect the dots.  Termites eat cellulose, found in wood and wood products, for nutrition. They don't distinguish between the wood in your home and the wood in the empty lot down the street for their lunch.
High moisture areas like crawl spaces are very attractive to them and can serve as starting points for infestation. Once in, termites can infest virtually any part of your home, from wood trim and siding to wallboard and furniture.
Protect Your Home From Wood Damage
Most important in termite control is to keep these pests away from susceptible structures. Prevention (barriers and treatment) is far less expensive than the cure (rebuilding). Preventive measures include physical barriers such as crushed stones, chemical barriers, and use of termite-resistant materials like treated timber.
Timber should not be in contact with the ground. We suggest you not plant trees, shrubs and climbers against your building. As most buildings are on slabs, avoid piling soil or timber against the external walls. If the floor is on piers, inspect the caps regularly for breaches, and make sure no flooring timbers are in contact with the ground.
To learn more about the Hartz Pest Control termite control process Call Today – 713-461-4866
Drywood Termites
Drywood termites have soft bodies and are cylindrical in shape. They have six legs, compound eyes and chewing mandibles
They are social insects that live in colonies. The colonies are composed of kings, queens and soldiers. There is no worker termite as with subterranean colonies. The work is performed by immature termites before they become adults. King and queen termites perform the reproductive functions of the colony.
The drywood termites are light to dark brown and 1/3- to 3/8-inch in length. Soldiers guard the colony against invaders. The nymphs (immatures), which are the most numerous caste, are pale, cream colored and wingless.
Drywood termites are usually found in attic wood framing, since as their name applies, they prefer dry wood. They get moisture from the water produced by the digestion of the cellulose found in wood. Winged reproductives fly from an existing colony to new dry wood areas. Colonies will contain up to 2,500 members.
Subterranean Termites
The Subterranean termite commonly swarms in spring, however small swarms can occur any time. As the subterranean termite colony grows, specialized groups, or "castes" are produced for the various tasks required. The castes include workers, soldiers and reproductives.
The Primary Reproductives, also called alates or swarmers start new colonies. Although thousands of primary reproductives are hatched each year, all leave the nest. Supplementary Reproductives become reproductive only in the colonies where they were born, and assist the primary king and queen in growth of the colony.
The worker is 1/8- to 3/8-inch in length and is pale to cream colored. The Soldier is light colored with a brown head. Its body is similar to the worker's, but has a large head with powerful mandibles. The reproductives are about one inch in length. Primaries are dark brown to black, and supplementaries are light colored. Supplementary reproductives have either no wings or very short non-functional wings, while primary reproductives have four wings of equal size until they are shed. Primary reproductives are the termites most commonly seen outside, and are more commonly referred to as "swarmers."
Subterranean termites live in colonies in the ground, building vertical mud tubes above ground in order to search for food. As subterranean termites will die if exposed to light for an extended period of time, the tunnels provide protection from the open air, allowing workers to carry food to the nest. Subterranean termites need to stay in contact with the soil in order to survive, unlike drywood termites that only need low moisture.
Formosan Subterranean Termites
Formosan Subterranean Termites maintain huge underground colony systems reaching upwards of 10 times larger than other subterranean species. Formosan termites build mud nests, called cartons, within the walls and other enclosed spaces of a structure. These nests may provide shelter for tens of thousands of individual termites. They also provide surplus moisture that sustains them during dry periods. Since Formosan termite colonies can contain several million, they can cause damage much faster than other species. Unlike other subterranean whose colonies are almost exclusively underground, Formosans can establish secondary aerial nests with no connection to the ground.
Call Today For Houston Termite Pest Control Service!
Call Hartz Pest Control today- Your Houston Termite Exterminators offering the very best in Houston TX Pest Control Service. (713) 461-4866
We also offer services for many different insects including Cockroaches.