Pest Control & Pest Management Services in Spring, TX.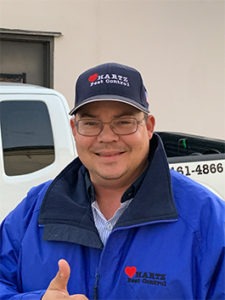 When you are looking for reliable Spring, Texas, pest control services, you do not need to look beyond Hartz Pest Control for reliable results. The unfortunate truth is that there are many types of pests that can and will try to make their way inside homes and business properties in the local area. These pests can do everything from cause damage to your home to spread germs throughout the space. When you need a pest exterminator in Spring, Texas, one call to our company will resolve your issues.
You may be looking for effective Spring, Texas, pest control services because you believe you have termites in your wood privacy fences, because you have spotted a few cockroaches in your home, or because you hear the pitter-patter of scurrying feet inside your walls while you are trying to sleep at night. These are just a few of the many reasons why our valued clients throughout the local area contact us for pest control services, and these are all problems that we can effectively resolve for you. We will initially diagnose your issue with an up-front visit, and we will provide you with more information about the competitive pricing available for our services. Then, we will set up a treatment plan and begin carrying out that plan to resolve your problem.
Call An Experienced Spring Pest Control Exterminator For Fast Guaranteed
Pest Control Services in Spring (713) 461-4866
When you are searching for a pest exterminator in Spring, Texas, the company you reach out to does matter. We want to help you eliminate any type of pest from your property, and we will actively work hard to exceed your expectations. From our competitive rates and proven practices to our friendly, respectful customer service, we will provide you with the experience and end result you are looking for in pest services. You can contact our company today to inquire about the services we offer and to set up an appointment to meet with a pest exterminator in Spring, Texas, to discuss your issues and concerns. Your home or business will be free of pests soon when you give our Spring Pest Control Services team a call today.
Service Areas:
Houston, Spring, Sugar Land, Cypress, The Woodlands & Katy, TX