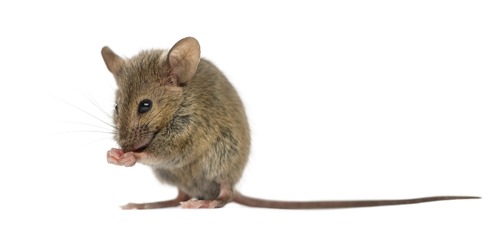 Whether you think mice are cute and cuddly or jump on a chair at the mere thought of a rodent, chances are you don't want these creatures taking over your home. Mice might be small, but they can cause severe issues with your home and your health. As Houston rodent control specialists, we offer our clients expert advice on detecting and managing a mouse infestation.
What Are the Signs of a Mouse Infestation?
Mice are good at hiding, so if you see a live rodent, you can be fairly sure you have a nest somewhere in the home. Most common mice are three to four inches long with a pink tail. Other telltale signs of an infestation include:
Small, oblong brown droppings
Damaged or chewed food packages
Damage to walls, floors or furniture
Scratching sounds in the walls, attic and/or ceiling
Shredded paper used for nesting material
Why Should I Worry?
Rodents can cause major damage to your home as well as spreading disease. These creatures gnaw on fixtures and furnishings, which may create aesthetic as well as structural issues. Mice often nest inside the walls, where they can chew on electrical wires, which is a significant fire hazard.
In addition, mice leave urine and feces in their wake, which can contaminate the air and the food in your home. The contamination can cause breathing issues for those affected by asthma or allergies.
The Centers for Disease Control and Prevention lists several dozen diseases directly and indirectly transmitted by rodents, including salmonella and Lyme disease. Mice also carry ticks, mites and other pests, which can lead to a secondary infestation.
When Should I Call a Professional?
If you suspect an infestation, quickly clean while wearing gloves, disinfect the surface, and discard potentially contaminated food. Mice can squeeze into a space smaller than a dime, so seal any gaps or cracks through which they could be entering the home. Plug holes with wire mesh or steel wool, which is one of the few materials mice can't chew their way through. You should also carefully seal food and remove water sources.
While DIY home solutions can effectively kill rodents, they don't remove the source of the problem. Because mice are quick to die after leaving home, repellents rarely solve the problem. Home or business owners who are struggling with mice in Houston should contact Hartz Pest Control at 713-461-4866 for an evaluation. We use a thorough process to identify rodent entry points, remove food sources, place bait and traps and dispose of the captured mice to ensure that your infestation is indeed over.