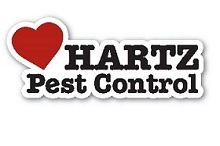 Termites can chew through wood, wallpaper, and wood flooring. It is important for homeowners to choose an experienced pest control company well trained and ready to spring into action treating termites invading their homes, starting a new colony. Their are 2 types of termites in our area: The subterranean termite and the Drywood termite.
Spring is on its way, Texas bluebonnets will bloom soon and termites will be looking for new homes. Spring, Texas has experienced heavy rainfall and the Hartz pest control team knows that Subterranean and Formosan termites thrive in moist conditions.
Many residents of Spring, Texas mistake swarming termites for flying ants because the ants and termites look alike. Termites cause billions of dollars worth of damage every year, a swarm of hungry termites can cause serious property damage. In many cases, termite damage is not covered by homeowners insurance.
Hartz Pest Control, a trusted pest control company has been doing business in and around Houston, Spring, The Woodlands, Cypress, Katy, and Sugarland since 1989 treating termites and many other pests like roaches, bed bugs, crazy ants and mice. They also offer animal relocation. Pest control, termite and rodent experts with Hartz, recommend an annual termite inspection to rule out a termite infestation.
Hartz Pest Control also Offer Homeowners the Following Tips:
Don't allow water to accumulate beside your foundation.
keep mulch and soil level at least four inches below the top of the foundation
Never bury wood scraps in your yard.
Remove mud tubes and all rotting wood.
Hartz Pest Control's slogan is "We Put Your Pests to Rest" If you are a Texas homeowner protect your home by calling Hartz Pest Control for a termite inspection today. You can reach a Hartz termite expert at 713-461-4866.